FULLY ON TREND WITH WATER DISPENSERS

A mini pressure reducer with big tasks
Comfortable and environmentally conscious – with safety!
WATER.
Everyone almost takes it for granted, yet clean and pure drinking water is our most precious commodity - our elixir of life.
Many people work to obtain it and supply it to our cities, using a wide variety of technologies. The protection of our water is particularly important so that we can continue to be supplied with clean drinking water everywhere in the future.
Goetze is your partner in safety here too.
With our pressure reducing valves, we at Goetze stand for responsible and reliable handling of drinking water and have done so for almost 75 years!
Since our foundation in 1949, pressure reducing valves in water applications and in building services engineering have remained one of our most important business fields. Our rich experience results in innovative solutions.
Safety and protection go hand in hand with GOETZE pressure reducing valves.
The protection of people and the
environment is guaranteed by the materials approved in accordance with the recognised regulations, such as
lead-free gunmetal or plastic from medical technology.
According to the Drinking Water Ordinance, only materials that are expressly suitable for drinking water may be used for the construction and maintenance of drinking water installations. They must not adversely alter the water, change the smell or taste of the water or release substances into the drinking water in avoidable concentrations.
These requirements are met by our materials, thus protecting the user and the environment.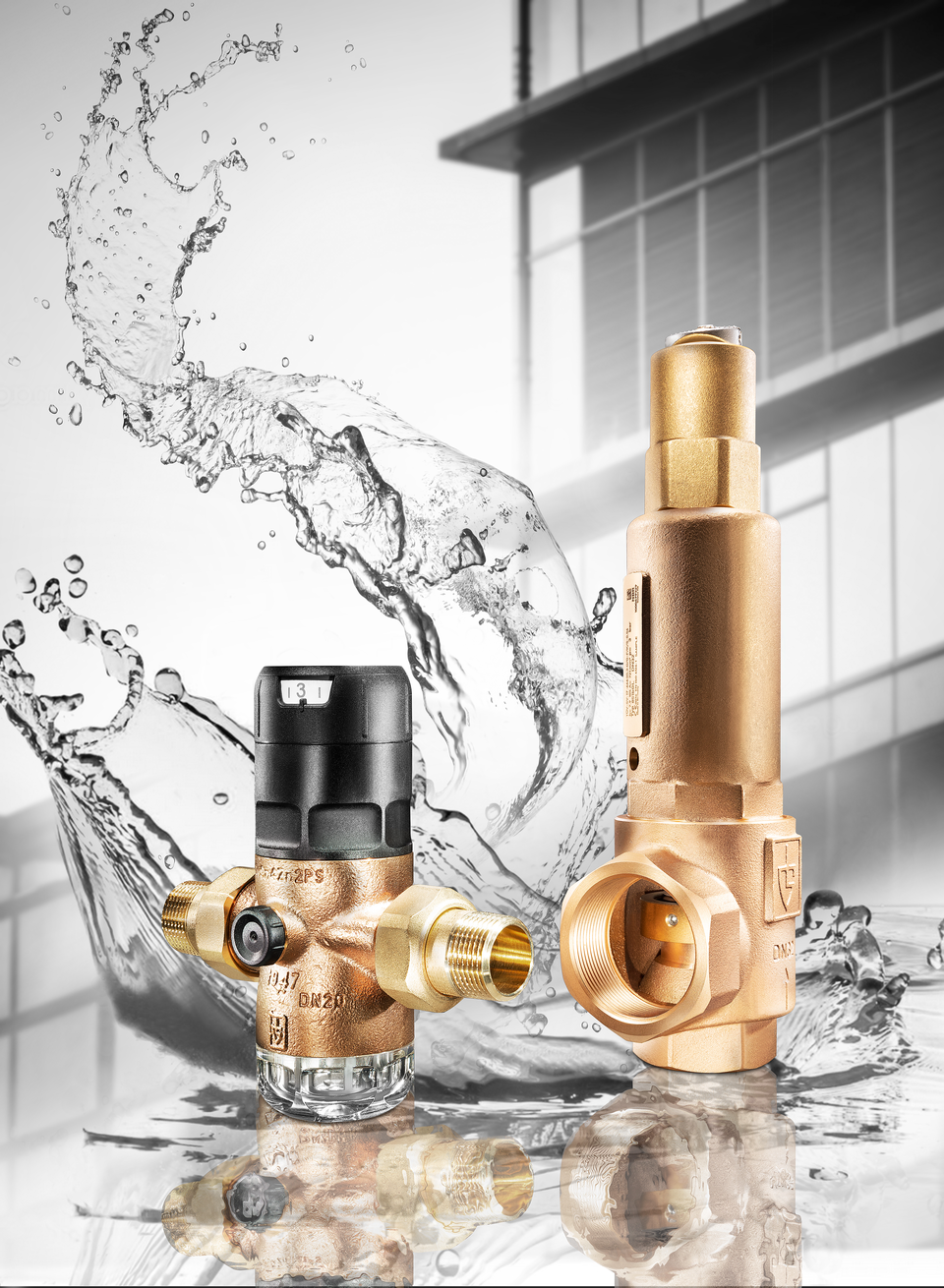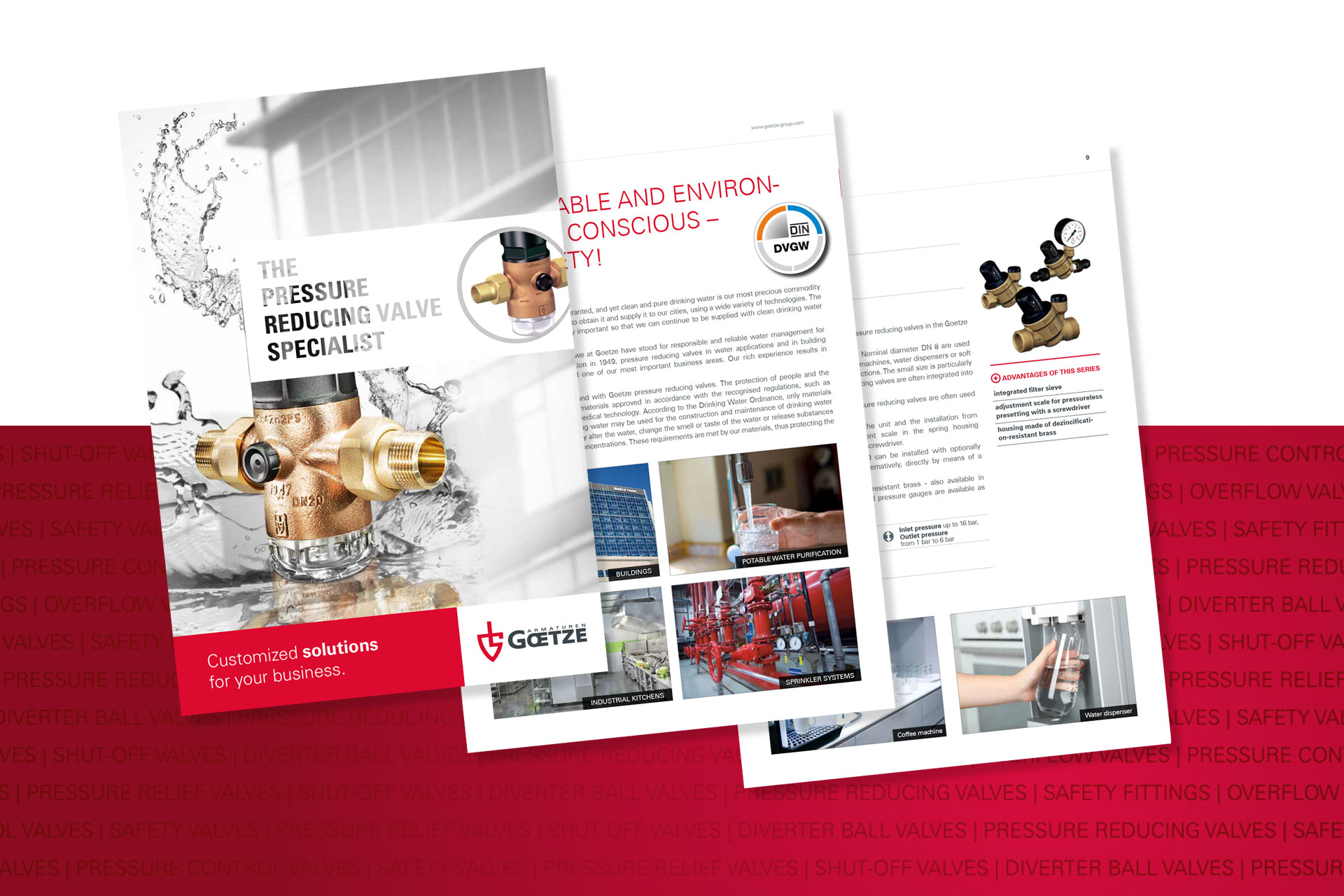 Matching:
The pressure reducer specialist
Read our leaflet about safety valves and fittings for drinking water.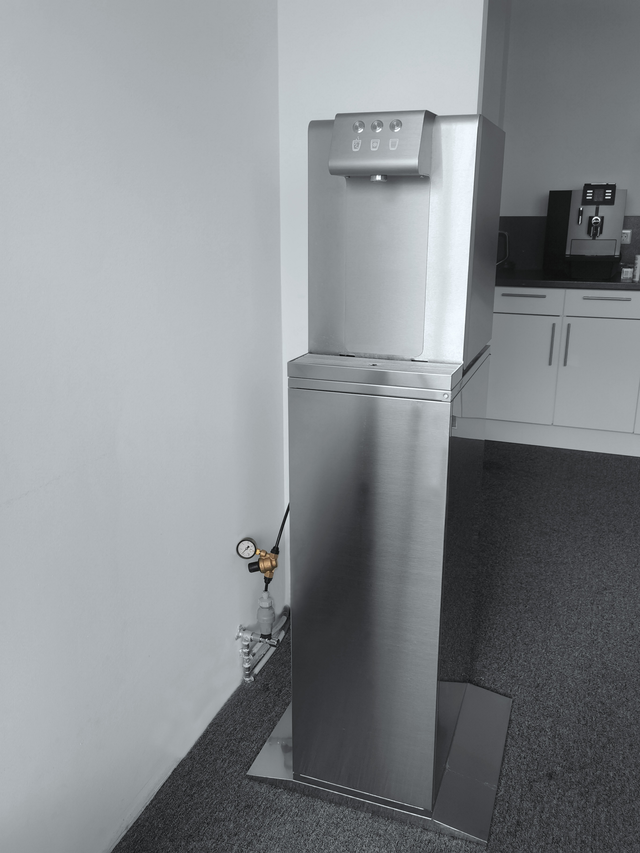 A VALUABLE CONTRIBUTION TO ENVIRONMENTAL PROTECTION
Water dispensers with a fixed water connection are very much in vogue: chilled, non-chilled or carbonated
There is no more efficient way to transport water than via the piped network. This means that the water does not have to be bottled and transported to its destination by truck. This saves plastic waste and CO2!
In order to protect the water dispenser from excessive supply pressure and to ensure the right operating pressure, water dispensers are equipped with pressure reducers. Goetze is your partner in terms of pressure here too. With the 9160 series, the smallest water pressure reducer in the Goetze portfolio, we have the right pressure reducer for your water dispenser.
The integrated filter screen protects the water dispenser and the installation from particles and impurities. An adjustment scale in the spring cap allows pressureless presetting with a screwdriver. The housing is made of dezincification-resistant brass - also available in lead-free brass on request.
To ensure the most convenient installation possible, the 9160 series pressure reducer in DN8 is also available with pre-assembled hose connectors. For the connection of flexible hoses, the variant with 3/8" external thread is available. This means that there is no need for separately mounted fittings and the pressure reducer can be mounted directly.
According to DIN EN 1717, a water dispenser (without fine filter / activated carbon filter) must be secured with a class 2 safety device. Here, too, there is a solution from Goetze in which a backflow preventer type EA is integrated in the housing of the pressure reducer. This means that the backflow preventer does not have to be mounted as a separate component.
A pressure gauge with PTFE ring is optionally available. This is simply screwed into position and does not need to be sealed with hemp or Teflon tape.

ASSEMBLY INSTRUCTIONS ALSO AS VIDEO

Pressure reducing valve – simply explained

Installation, maintenance and function simply explained with our installation video.

See how the pressure reducer is mounted in a pipe with threaded connections and how it then works. With an exciting look inside the valve itself and flow charts. Discover our supplement to the assembly instructions.